FORWARD TO THE PAST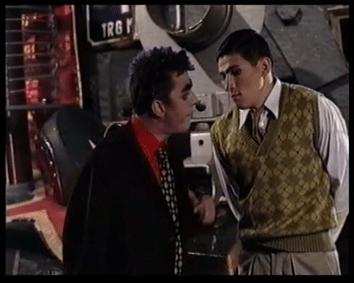 Beta SP, Digital D3 mastering, V.S. Video / Forum Ljubljana & VPK, Ljubljana, 1995, 10'
Script Andrej Rozman Roza
Dir Marko A. Kovačič
Cast Andrej Rozman Roza, Sebastjan Starič, Marko A. Kovačič
Camera Andrej Lupinc
Music 2227
Edit Iztok Šuc
Sets Marko A. Kovačič
Costumes Katarina Nikolov

The video speaks about the problem of our understanding of the distant past, presented through a concrete example of the 23rd century archaeology. The leading character is a professor, who takes the student to one of the main archaeological sites of the time, where beside material remains from the past, live so-called Plastoses. And it is to these creatures that the student-bluffer, obtuse as he is, just cannot resist. The main expressive means still remains the chroma-key effect, but the fine-art sophistication of the 'background' settings is evermore perfected (elements from exhibitions) - designed to the minutest detail in his studio. There remain some traces of performance in the video, supplemented with digital animation.